Playing in the swimming pool could be one of the fun activities. But, what if the swimming pool serves unusual atmosphere at once located in the scariest place like the top of the building or at the tip of the waterfall? Are you still feeling the fun yet, or dare to challenge yourself to bring a new experience of your life?
Then here are 10 scariest swimming pools in the world that you must try at least once in your life.
Also read: Swimming-refreshing-workout
1. Holiday Inn (Shanghai, China)
From such a height you can clearly enjoy the land view because this swimming pool is made up of the glass. It's really perfect way to show your new swimsuit or bikinis to Shanghai's people.
2. Nemo 33 (Brussels, Belgium)
Do you love diving? Then visiting this pool which is very flawless. Nemo 33  is well known as one of the deepest indoor swimming pools. It goes down 34.5 meters like underwater caves. Usually, people utilize this pool for multi-purpose diving instruction, recreational, and film production facility.
3. The Library Blood-Red Pool (Koh Samui, Thailand)
"Swimming pool filled up with blood," well, such Hollywood movies real life experience could be possible if you go to Koh Samui. Red-water will welcome you. Don't worry, it's not made by blood, actually just fusion from the red, orange, and yellow tiles.
4. Golden Nugget (Las Vegas, USA)
Find the real thrill in Golden Nugget, where you can take a dip alongside sharks and other sea creatures. By putting a water slide in a shark tank, clearly, this pool is known as scariest pools in the world. The slide is enclosed and safe. If you brave enough then, try swimming here!
5. The Devil's Pool (Victoria Falls, Zimbabwe)
Feel the world's first natural infinity pool here. A pool perched on the edge of the world's largest waterfall with only a submerged stone wall between you and a 100-meter drop.
6. Bandra Ohm Tower (Mumbai, India)
Savoring fresh air from your balcony is very common. But, how about breath the fresh air while swimming in the balcony? Well, this 37 storey residential tower gives you such unique chance to experience . It has transparent walls and has pools on each storey.
7. Sky Habitat (Singapore)
Running across the bridge doesn't bring fear at all, but swimming across the daunting height bridge seems quite scary. This swimmable bridge will connect two luxury apartment blocks in the suburb of Bishan. So, who all gonna try this?
8. Sanctuary Retreats (Tanzania)
An infinity pool that overlook the nearby waterhole. If you lucky enough, you could enjoy watching the lions or elephants wander past in your luxury pool. Such a stunning and rare view. And it's the selling point of Sanctuary Retreats.
9.Sky Condos (Peru)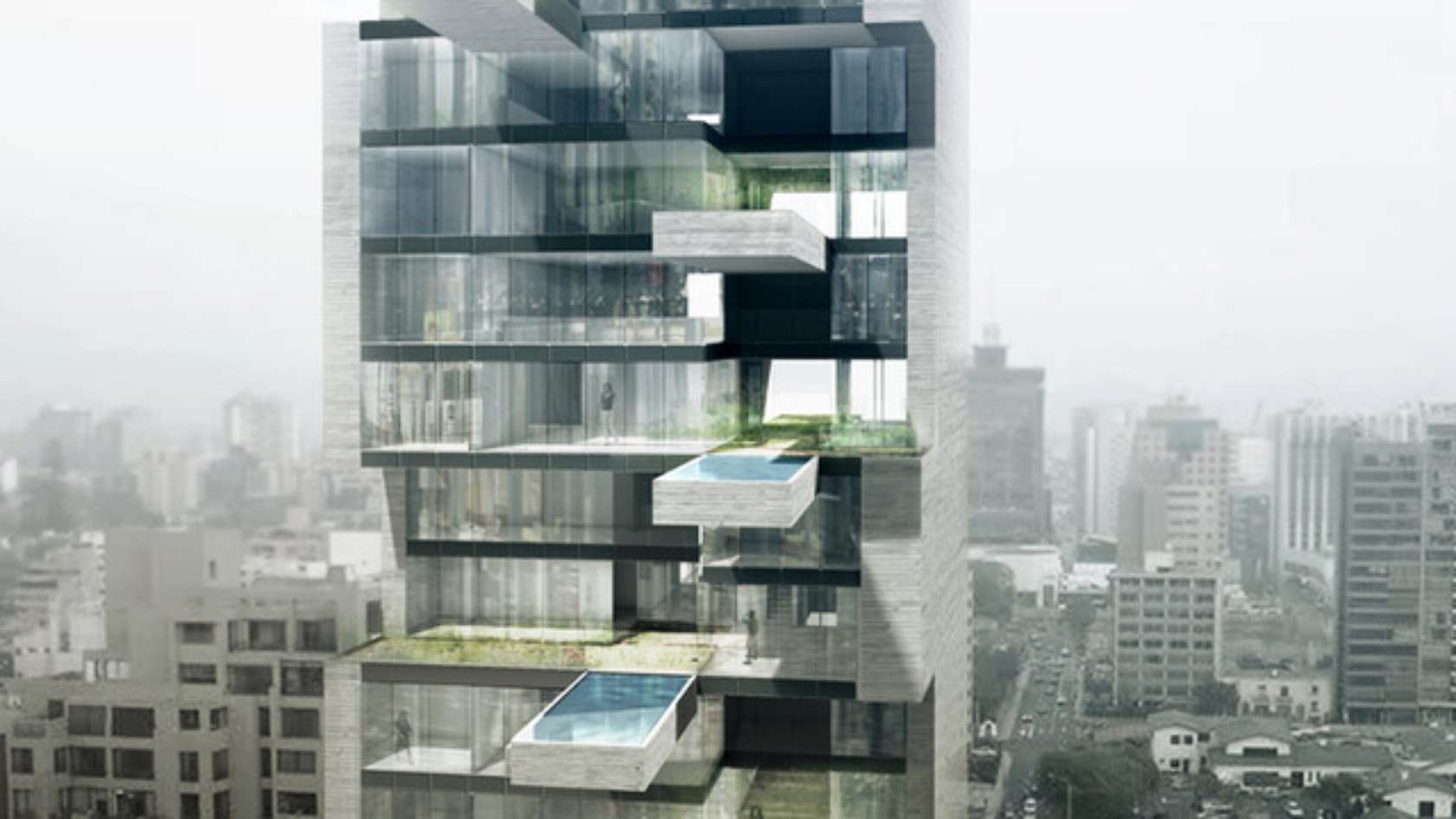 Currently, these floating pools able to make you feel like swimming in the mid-air. However, the pools are all separates from building so they show you different sides of city view.
10. Infinity Pool Marina Bay Sands (Singapore)
If your thrill-seeking needs are satisfied by heights then Infinity Pool Marina Bay Sands would be a top of your list. Imagine yourself gazing down onto the beauty of the city from the edge.