No matter where you are, what you are into, the second you heard the word "Biryani," you can't resist your hunger calling its name. Biryani is one and all favorite of everyone, even for those who don't fancy rice that much have an extra corner full of love for a plate of fragrant rice cooked with succulent meat and aromatic herbs. If you are a biryani aficionado (who isn't!), then this list is for you.
1. Lucknowi Biryani
In Lucknow's biryani, the meat and the rice are cooked separately, where garden-fresh spices and marinated meat is added later. This method brings out the right amount of flavor in the rice and meat.
Where to eat in Lucknow
Lalla's Biryani at ChowpattianChowk, for 250 INR.
Wahid's Biryani located in the Aminabad market area of Lucknow, for 200 INR. You can also try your hands on delicious tunday kebabs and seekh kebabs.
2. Hyderabadi Biryani
When anyone says Biryani, the very first thing that comes to our mind is "Hyderabadi Biryani." The rice is layered with golden fried onions, chilies, mint leaves and fiery meat. When this savory dish is done; it is sprinkled with kewda, rose water and saffron.
Where to eat in Hyderabad
Hotel Shadab is famous for two things: Hyderabad biryani and the famous Hyderabadi haleem. Hotel Shadab is located near Charminar, in the Madina district of Telangana. For two it costs 850 INR
Bawarchi, located at RTC Cross Roads and opposite Sandhya Theatre at Chikkadapalli in Hyderabad. Bawarchi serves chicken and mutton biryanis jam-packed with traditional Hyderabadi flavors.
3. Bombay(Mumbai) Biryani
In Bombay or Mumbai's biryani, most of the recipe is same; it's just the addition of kewra and few spices which differentiate Bombay biryani from rest others. Bombay biryani also contains fried potatoes.
Places for Biryani in Mumbai
Lucky's Restaurant, located on SV Road near Bandra Station. Trust me a biryani lover should not miss this heaven. A meal for two costs about 800 INR.

2. Persian Durbar, is located at Rani Baug, Byculla East. A meal for two costs approximately 900 INR.
4. Chennai Biryani
Traditional South Indian Biryani has succulent pieces of lamb meat seasoned with black pepper instead of red chili powder. In Chennai instead of basmati rice, the seeragasamba rice or parakkum sittu is use to make biryani.
Where to have Biryani in Chennai
In Dindigul Thalapakatti, Mr. and Mrs. Naidu in 1957 has invented the unique version of biryani which includes black pepper instead of red chili powder. Over the years the taste and quality have been still successfully maintained. It costs approximately 700 INR for two.
5. Kolkata Biryani
Apart from the sweetness of Bengal, Kolkata is also famous for mouth watering biryani, however, it contains a sweet tinge in it. Yup! This milder version of biryani is cooked with potato which is the essential ingredient in this appetizing dish.
Where to hog in this soulful Biryani in Kolkata
At Nizam's this delicious and worthy dish just for 600 for two.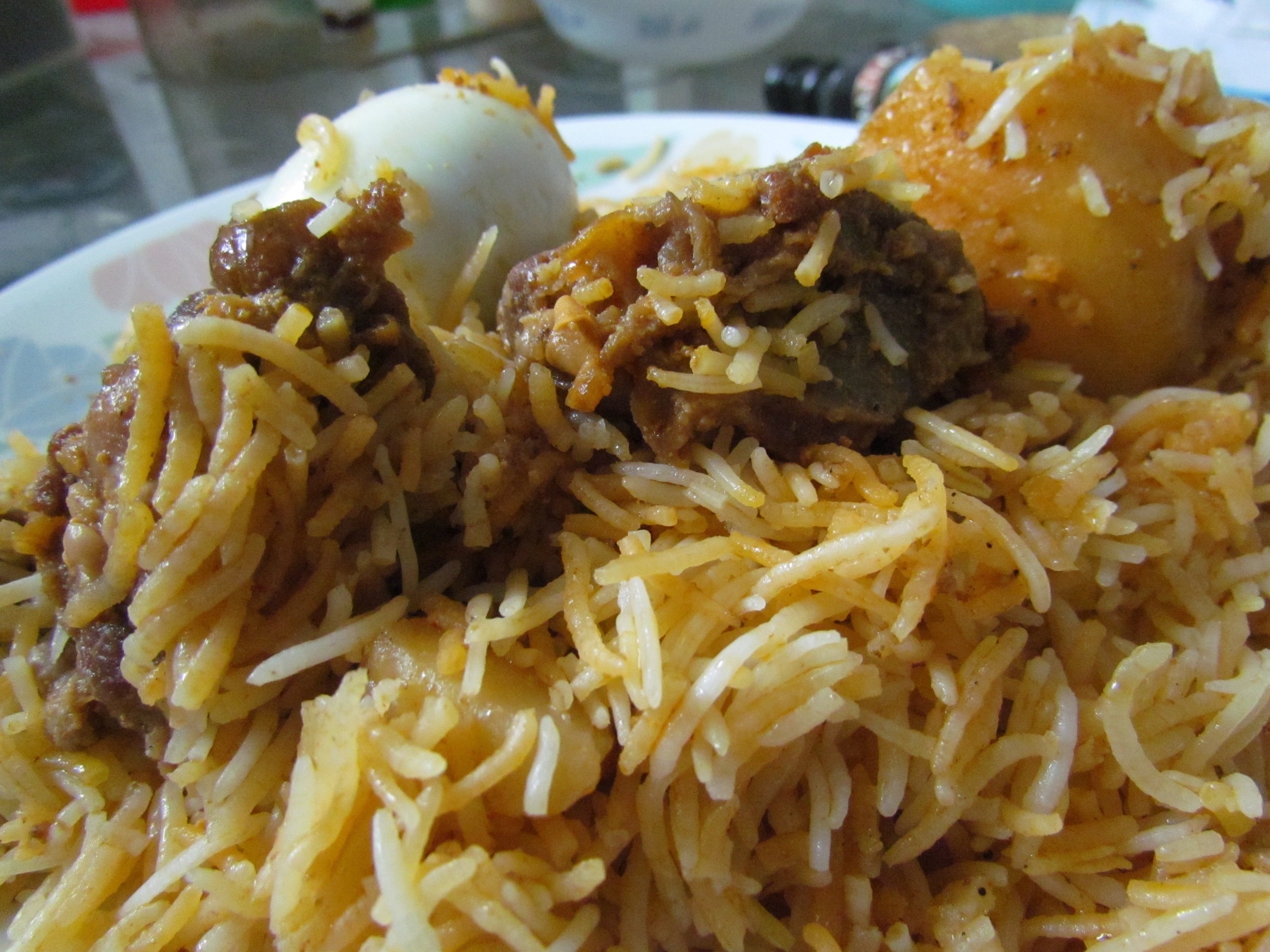 6. Delhi Biryani
Delhi's biryani is all known for its traditional Mughal touch. It's believed that Mughals are the main originator of biryani in India.  It is cooked with curd, ghee, tender meat pieces, almond paste, fiery green chilies and dry fruits, full royal style.
Where to eat in Delhi
Nasir Iqbal is situated in Nizamuddin basti of Delhi, a meal for two costs approximately 500 INR.

2. Al – Jawahar, located near Jama Masjid in Old Delhi. Here biryani is served with mutton korma and raita. For two, the meal costs about 700 INR.